Mumbai : It is Madhuri Dixit's 53rd birthday today and she is celebrating it in the way that she loves most – with her husband and children at home. Although she made her debut with Aboudh in 1984 opposite Bengali actor Tapas Paul, our memory of her first film goes back to the blockbuster Tezaab in 1988 when she became a rage with Ek do teen….
She continued to deliver hits thereafter and establised herself at the top with her impeccable acting and dancing skills in films such as Dil, Beta, Khalnayak, Hum Aapke Hain Kaun, Devdas, Ram Lakhan, Dil To Pagal Haiand many more. She also starred in many critically acclaimed movies. Lets go on a trivia journey of ten of her best films. She chose to get married in 1999 when she was at the peak of her career and disappeared into oblivion in USA only to bounce back in 2009 with Aaja Nachle and judged dance shows on TV. Twitter is full of loving messages for the iconic star from her fans today, wishing her love and luck for the coming years.
Dil
Madhuri won her first Filmfare award for Dil, in which she plays a rich and spoilt girl. Originally, it was a movie planned by Chandra Barot, who had made Don and had planned a movie starring Shashi Kapoor, Rohan Kapoor, Farha and Tabu. When it got shelved, Indra Kumar remade it as Dil with Aamir and Madhuri.
Saajan
In Saajan, Sanjay Dutt plays a lame poet named Aman or Sagar. Aman's character is inspired by writer Reema Rakeshnath's own life as she had broken her leg, and her doctor was concerned that no one would marry her. The original choice for the role of Aman was Aamir who did not see himself connecting to the role. Sanjay got it and did a superb job. Madhuri plays the love interest opposite Sanjay and Salman.
Hum Aapke Hain Kaun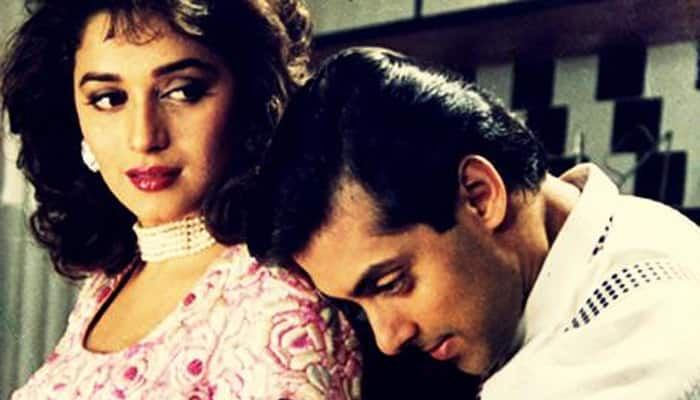 The first Hindi movie to cross Rs 100 crore, MF Hussain reportedly saw it 85 times and not only made several paintings on Madhuri, but also made the box-office disaster movie Gajagamini. This movie had 14 songs with Lata Mangeshkar singing 11 including Didi tera devar deevaana, which is one of India's favourite wedding song even now. Reportedly later, after the movie's release, Madhuri adopted Tuffy the dog.